Here is a list of the top 5 cheap airsoft rifles.
Buying the right air soft gun might seem like a big investment for a hobby but it doesn't have to be! There are plenty of options that are high quality and great for real play that won't hurt your pockets. You just have to know what to look for and make sure that you are getting a good product even if you are not wanting to pay top dollar. Here are the Top 5 Cheap Airsoft Rifles For The Money that you should look into getting. Especially for someone that is just starting out, this list can be helpful.
G&G Top Tech TR15 Raider DST FPS-400 Blowback Electric Airsoft Rifle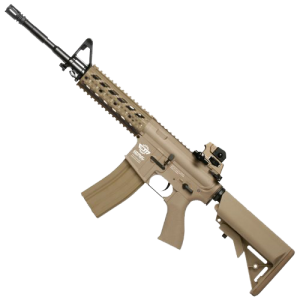 If you are not afraid to spend a little money and get an extremely high quality gun then this is the way to go. The frame of the gun is designed beautifully and feels like the real thing. The material is mostly a high quality plastic composite but some parts such as the barrel, gear box and butt stock extension tube are all the real deal metal. The combination of the 2 make this gun a perfect weight and not too heavy for play. Another major attribute is the accuracy of it as well as it shoots really hard. The 20 g BB's are great to use for this particular model. This gun does not come with a battery or charger so make sure you get those things in addition. A smart charger and nun chuck battery works well.
Cyma AK47 AEG Airsoft Gun
This is a good comparison piece to the higher end guns for a fraction of the expense. This gun comes with full metal gears and an imitation wood stock and grip for a really different and cool look. This gun definitely stands out from the rest of the blacks, greys and other colors that you normally see on the field. It has a nice bolt catch sound which is always amusing and the gun is full size comparable to the real thing. The sights on this piece is killer too. Also known for it's accuracy this gun will not disappoint and the large magazine holds up to 600 rounds so you can shoot rapidly with no worries. If you take care of this gun it is built to last years even with everyday play. This is a great gun for the money and it looks really nice too.
MP5-G5 FPS-315Electric Airsoft Rifle
This gun is not meant to wow on the exterior level. Looks pretty basic although it does have some featured parts like selector switch, trigger, sights, end plate, and sling attachment point which are metal. The interior is metal with the gear box and inner barrel as well to make it realistic. If you like smaller guns then this is a good choice. Although it is realistically heavy, it fits great on the body and makes it so that you have the ability to move around and be stealthy. It has an option to adjust the back sight for 3 other ranges which is pretty unique as well. The magazines are light and very easy to switch out which is always a plus when in the middle of battle. It has an impressive rate of fire and is an accurate piece of equipment. This is a 9mm submachine gun of German design and it means business.

Jing Gong M4 CQB FPS-400 Electric Airsoft Rifle
This JG Airsoft gun is one of the highest rated AEG's out on the market right now. Not to mention it looks bad ass! It has an adaptive rail which is one of the favorite features and comes attached to its unique Adaptive Rail handguard, and also features a continuous top rail extending from the front sight to the rear flip-up sight. For the all-new enhanced production run model, JG has done the impossible.  They've re-worked and improved what a lot of players thought was already pretty perfect AEG. It has adjustable hop-up, adjustable rear sights and a rear-retractable 4-point stock for extra comfort. It shoots strong and is extremely accurate, the only thing is it is a little on the heavy side because of it's almost full metal design. The only negative is that the battery can be a little tricky to put in until you get used to it. Other than that this gun is stellar.
G&G GR16 Carbine DST Blowback FPS-350 Electric Airsoft Rifle Combo
G&G is known to shoot the finest Airsoft rifles and pistols on the planet. Years of development go into making the best performing and highest quality Airsoft guns you can buy so this gun is on the list for a reason. This gun is a replica of the M4A1 carbine which is used by the special forces and marines so it goes to show the quality expected. This is a gun that internally it is made of mostly metal but the outside is fiber reinforced plastic. It's a high quality nylon fiber reinforced polymer that gives high durability and crack, shock and scratch resistance. The design makes it light weight enough to keep player fatigue down.  The gun has a great feel and look to it and the blowback on the gun makes a great sound which is always fun.
As you can see there are plenty of inexpensive guns that do not reflect in quality. All 5 of these guns are a great buy especially for players that want to invest a conservative amount of money. You get what you pay for is a true statement for the most part but these high quality guns are definitely a good buy. Check them out!